2020

SOPHIA

ONLINE
Network

 Meeting
July 11th& 12th

To join the Network Meeting on Saturday and Sunday, please register

here

. 
Thank you to everyone this year who has helped us prepare the SOPHIA network meeting in Romania. Unfortunately, due to recent events, we will not be able to go to Cluj this year. However, Mihaela Frunză and Liana Precup from Faculty of History and Philosophy, Babes-Bolyai University have agreed to host the meeting next year, which we look forward to still.
The other good news is that we will still be able to run the SOPHIA Network Meeting this year, just slightly differently. So, please allow us to introduce to you, for the first time since SOPHIA began …
SOPHIA Online Network meeting 2020!
Our key aims are to bring people and ideas together, to promote a curriculum, to incite projects, to develop standards, to work with similar organisations and to advance doing philosophy with children. So, we do hope you can join us online to carry that on in spite of the restrictions.
To register for the event and gain access to all of the live workshops as well as discussion groups, please register here: http://www.sophianetwork.eu/register-for-sophia-network-meeting/
The location
This year we are inviting you to enjoy the luxury of your own home as we bring SOPHIA to you. The dates will stay the same as planned the 11th and 12th of July thought the timetable and the theme will be different as the Romania meeting will be carried over into 2021.
Theme: Philosophising in Lockdown
This theme calls for workshops on doing philosophy with children online, or other ways of reaching out to young people during these interesting times. Have you been running online dialogues, or using other ways of helping children think through philosophical questions at home? Perhaps you have sessions that have meaning right now, or that could help people through feelings of isolation. Or should we be looking to the original Greek meaning of Schole: leisure or free time? How can we use this lockdown to develop ourselves and our communities for the future?
Content and timetable
Click here to download the Timetable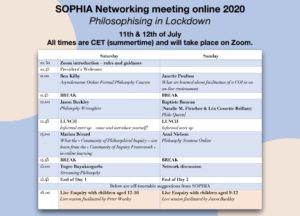 If you would like to join us, please register here. 
Registration Fee
As the meeting is being held online this year we have reduced the fee to €10 for the meeting itself (as we cannot provide refreshments to your home!) and you still have to be a member to join us (€30 per annum). The fee will cover the costs of the platform we are using and will also go towards the charity to build up reserves to be able to run initiatives such as our New to the Field Award each year.