2020

SOPHIA Network

Meeting
CLUJ, ROMANIA
July 11th& 12th
Hosted by Mihaela Frunză and Liana Precup, Faculty of History and Philosophy, Babes-Bolyai University, Cluj, Romania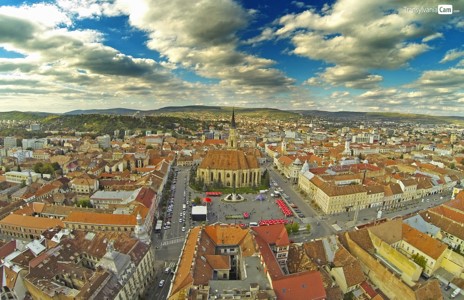 The City
Most of the jokes about Cluj people are related to the slowness: slow talking, slow doing things, slow thinking 🙂 Usually, this kind of jokes start from something that is true but is exaggerated / unwisely generalized. Visiting Cluj could be (if you want this) a calm and beautiful experience of slow lifestyle, slow-cooked food, discussions with people that don't rush anywhere and live their life with the feeling they have all the time in the world.
On the other hand, if you don't want that experience of slowness, you'll also find the opposite: Cluj is the city with the fastest growth in Romania, the most important industry center of IT in Romania, including artificial intelligence and machine learning R&D centers, medical research, hosting a lot of events tech-related such as Startup Europe Summit 2019, Open Innovation 2.0 Conference 2017. To find out more please visit IT Cluster. Aaaand…. the rumors are that Romania (and Cluj) has one of the fastest internet connections in the world. Another reason to brag after visiting Cluj and Transylvania is Dracula's home. You may like the stories of Dracula, you will be able to have the experience of visiting some Dracula castles.
Cluj is a city where, during the summer, you hear more English than Romanian in the old town, so communication won't be a problem.
Venues
The Meeting will be held at is Babes-Bolyai University the oldest, largest and most prestigious university in the country. It is located at the south end of the old town and is only 15 minutes' walk from the train station.
Friday 10th (Symposium):
Faculty of History and Philosophy – Room Francois Chamoux, floor 1
Cluj-Napoca
Saturday 11th & Sun 12th (Network Meeting)
FSPAC – Faculty of Political Sciences, Administrative and Communication Sciences
Room T1
Cluj-Napoca
Preliminary program
Friday: P4C Symposium at BBU – Academic papers over two sessions.
Saturday: Day 1 of Sophia Network Meeting, workshops, and papers (Lunch and refreshments covered from the delegates' fees). Followed by a Conference dinner for delegates in the evening (booked by hosts, delegates pay their own meals & drinks)
Sunday 2ndJune: Day 2 of Sophia Network meeting, workshops, and papers (lunch and refreshments covered from the delegates' fees).
Theme
SOPHIA 2020: The Future. Philosophy Bites Back:
At a time of political, economic and environmental turmoil what role does philosophy with children have to play in the future? Should it be challenging some of these issues head on? or be used as a guide, helping children to navigate their own futures? Should it remain politically neutral? is this even possible? Can philosophy help tackle our future, or should this be left to other fields? Does philosophy have any teeth? (yes, we are bringing Dracula in here! ;-)) Furthermore, what will philosophy with children look like in the future? And as we are in Cluj, the heart of IT in Romania, what role can technology play in philosophy with children?
Call for proposals
The deadline for proposals is Friday 28th of February. Please submit you cover sheet and proposal to the Network meeting coordinator: steve@philosophy-foundation.org.
For full details for submitting a proposal, please read the details here.
Travel
There are direct flights to Cluj from many cities in Europe, see the list of flights "Avram Iancu" airport is very close to the city center and a cab from the Airport to the city center is currently around 7 EUR.
Exchange rate: €1 = 4.37 Romain Leu
There's public transportation available from the airport to the city center. Trolleybus no. 5, connects the airport with the railway station and bus no. 8, connects the airport with the Mihai Viteazu Square.
Accommodation
The accommodation in Cluj will offer you a lot of different options suitable for all the tastes and all the pockets:
The search on Booking.com for 20-23 June 2020 will offer you the result: 57 properties found – including 12 value deals, starting from 60 Eur / 3 nights / 2 adults.
The search on Airbnb offers you a lot of options too with prices starting from 50 Eur / 3 nights / 2 adults.
As Cluj is quite a small city, the distance between the conference venue (the university) and any accommodation is usually small.
If you would like to join us, please register here.